Apple recently introduced the iPhone 12, iPhone 12 Pro and Pro Max, and the iPhone 12 mini to an eager market. These are their new flagship 2020 models.

The iPhone 12 is an updated version of the iPhone 11 with a slimmer design and fresh new performance features, and the iPhone 12 mini is a new model. The iPhone 12 mini is the smallest iPhone that Apple has put on the market since 2016. The last time we saw such a small iPhone was the iPhone SE.

Both the iPhone 12 and the iPhone 12 mini are essentially the same phone except for the screen size, battery, and price. The iPhone 12 mini is perfect for those who don't like carrying a huge phone and who like the ease of handling their phone with one hand.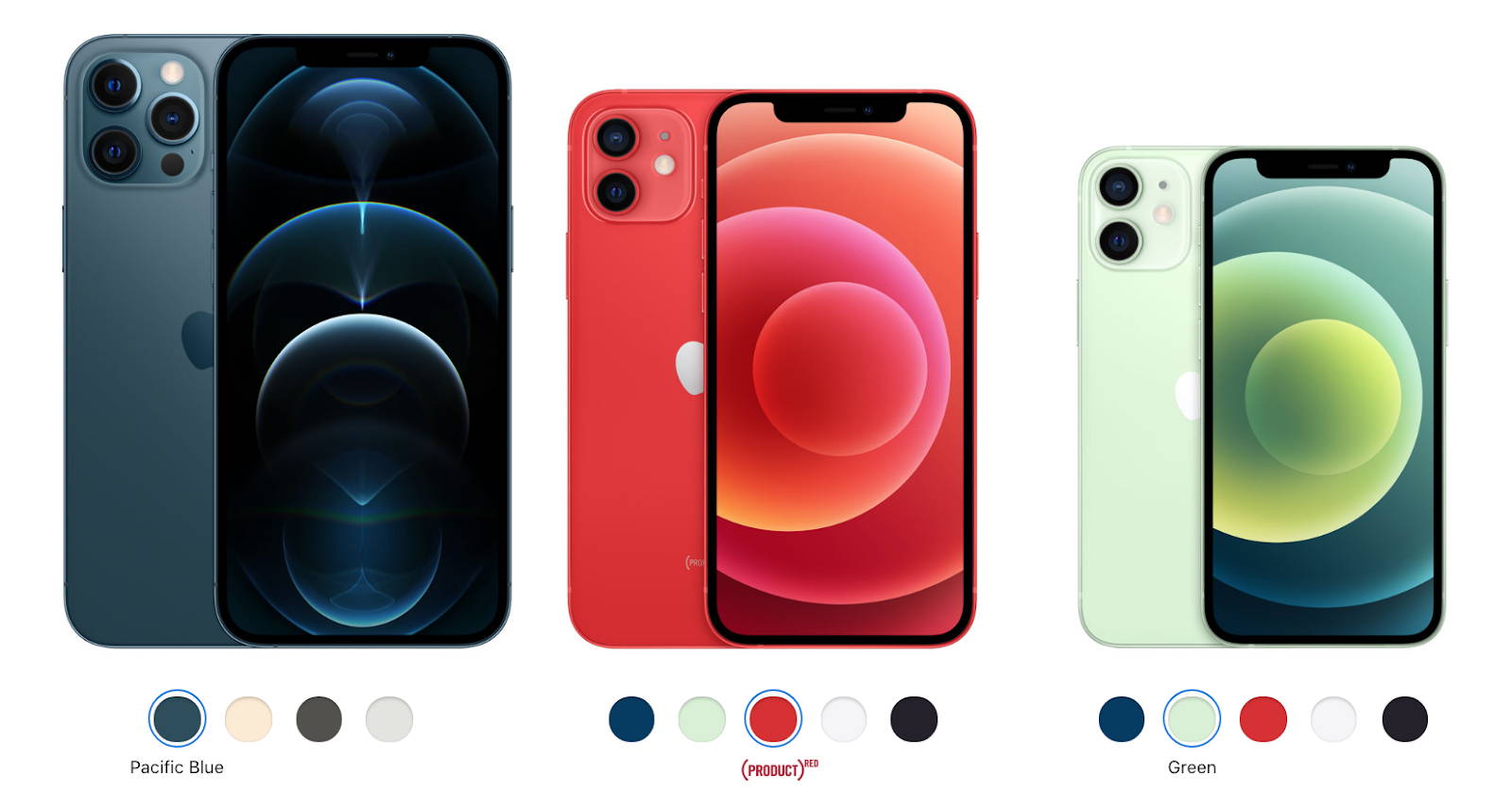 The iPhone 12 Pro and Pro Max both feature advanced options for those that want better photo/video quality and overall performance. The 12 Pro versions have the best photo features of all iPhones.
Design, Sizes, and Screens of the iPhone 12 Models
Screen Sizes
The iPhone 12 has a 6.1-inch screen and the iPhone 12 mini has a 5.4-inch screen. The iPhone 12 Pro also has a 6.1-inch screen while the Pro Max boasts a whopping 6.7-inch screen.
Improved Display
All iPhone 12 models offer SuperRetina XDR OLED displays with edge-to-edge design and smaller bezels than their predecessors. The new models offer flat edges instead of rounded corners which feel more like the iPad Pro. Also, they all offer True Tone Display that matches the color of the phone display to the ambient lighting.
Less Broken Glass
They all have ceramic shield fronts instead of the usual glass which is said to offer better crash resistance. In fact, Apple says that the phones are now 4x better protected when dropped.
Aluminum and Stainless Steel
The iPhone 12 and iPhone 12 mini are enclosed in aerospace-grade aluminum and the iPhone 12 Pro models are made of surgical-grade stainless steel.
New Fun Colors
Models 12 and 12 mini are offered in new exciting colors; Blue, Green, Red (Product), White, and Black. The Pro models come in Pacific Blue, Gold, Graphite, and Silver.
Technical Specs of the New 2020 iPhone 12 Models
Faster than Ever
All the new models support 5G connectivity (where available) for super-fast downloading and streaming.These are the fastest iPhones ever. The iPhone 12 mini is actually the only phone of its size to have 5G capabilities.
New Chip
They all feature the new A14 Bionic chip which is the fastest chip on the market today. The A14 Bionic chip significantly improves performance and efficiency. Apple says that these new models are 50% faster than most smartphone competitors.
Improved Water Protection
All iPhone 12 models are dust and water-resistant supporting a total water depth of 6 meters and up to 30 minutes submerged.
Capacity
The iPhone 12 and the iPhone 12 mini are offered in 64GB, 128GB, and 256GB. On the other hand, the Pro and Pro Max offer 128GB, 256GB, and 512GB.
Faster Charging
Apple says that their new models can be 50% charged in 30 minutes.
Better Photos and Videos
Here is where it gets super interesting!
The iPhone 12 and the iPhone 12 mini offer nearly the same photo and video features, while the iPhone Pro models offer better-than-ever photo quality and video performance.
iPhone 12 and iPhone 12 Mini Cameras
The iPhone 12 and the iPhone 12 mini present upgraded camera features compared to the iPhone 11 models.
These models both have dual 12MP optical lenses. The Ultra Wide lens has an f2.4 aperture and the wide lens offers an f1.6 aperture. Portrait mode now has advanced bokeh and depth of field control with six effects (natural, studio, contour,stage, stage mono, and high‑key mono). They also have a better low-light performance capacity and a 2X optical zoom and 5X digital zoom (3x for video).
They feature improved Night Mode and Deep Fusion for better quality photos with more texture and minimized noise. The HDR feature has been enhanced to Smart HDR3 which offers better white balance control and saturation. Night mode now works with the front-facing camera for better low-light selfies.
Video quality has been improved with the new Dolby Vision HDR video recording of up to 30 fps and 4Krecording up to 60fps. They also offer optical image stabilization for more steady videos with less shake.
A cool new feature is Night Mode Time-lapse that can take top-quality low-light time-lapse videos.
iPhone 12 Pro and iPhone 12 Pro Max Cameras
The iPhone 12 Pro and Pro max feature all the same camera options as the iPhone 12 and iPhone 12 mini plus some added photo and video enhancing features.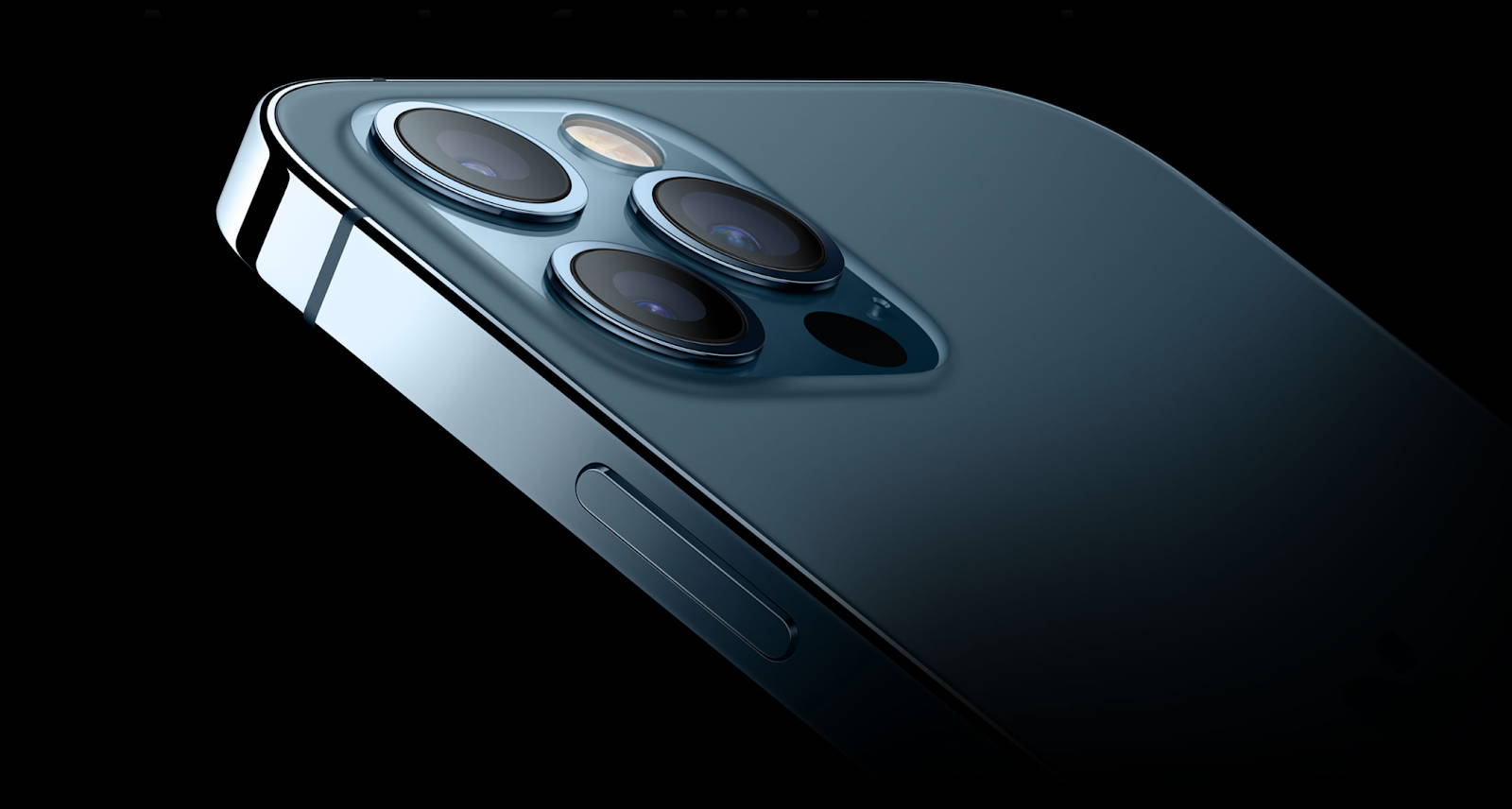 The Pro models offer a triple 12MP camera system. An Ultra Wide, Wide, and a Telephoto lens. The Ultra Wide lens has an f2.4 aperture, the Wide lens an f1.6 aperture, and the telephoto lens has an f2.2 aperture.
The iPhone Pros also offer HDR video recording with Dolby Vision but up to 60 fps as opposed to 30 fps on the other iPhone 12 models.
The iPhone Pro comes with a 4x optical zoom range and a digital zoom up to 10x for photos. The iPhone Pro Max has the best performance with the 2.5x optical zoom in, 2xoptical zoom out, 5x optical zoom range, and a digital zoom up to 7x for video and 12x for photos.
The iPhone Pro Max has an added sensor-shift optical image stabilization system that provides cinematic quality videos.
Both the iPhone Pro and the iPhone Pro Max now offer Night Mode for Portraits. They also come with a LiDAR Scanner that enhances artificial reality (AR) experiences.

What's in the Box
Apple has decided to discontinue supplying a power adapter and earbuds with their new models. The existing older iPhone power adapters and earbuds are compatible with the new iPhone 12 models and chances are users already have those items.

The box is smaller and the phones come with a USB-C to Lightning cable only. They claim that this is a choice inspired by the desire to reduce their carbon footprint.

New Extras
The new iPhone 12 models are designed with a built-in magnetic ring compatible with the MagSafe charger and other accessories like cases and wallets.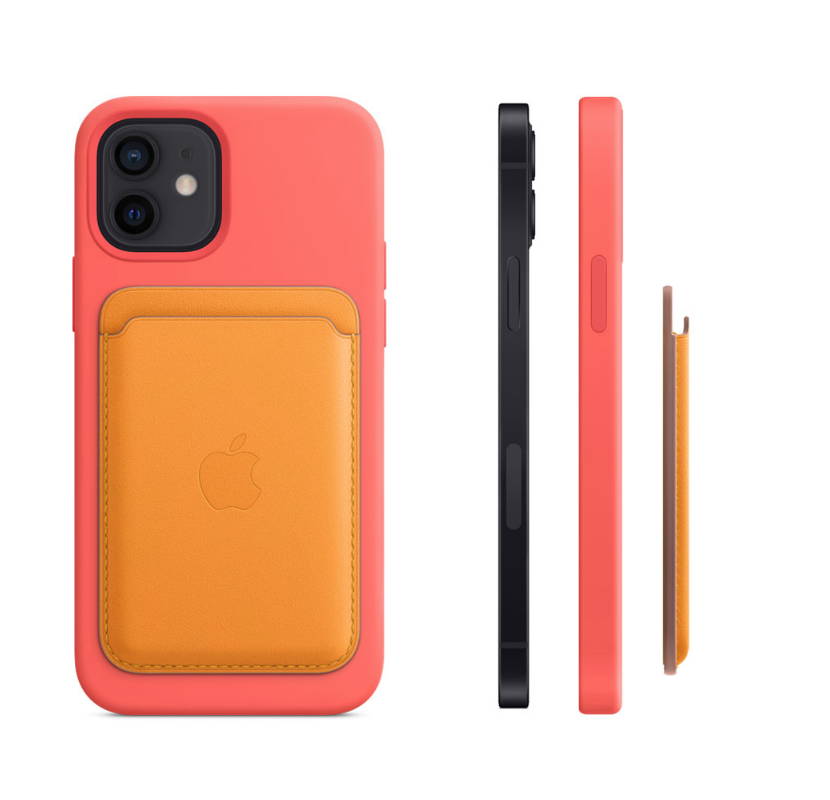 The new iPhone 12 will certainly please all the phone photographers out there looking to take professional-looking photos and videos.
Join our Facebook page Shoot Like a Pro with Your Phone to get tons of tips and tricks to improve your phone photography.

Awesome Products for the iPhone

Other Articles You Might Like