Are you getting more serious about your phone photography and videos?

Do you want to explore your options and wish to create more stunning images and clips?

Want to look more professional during your Zoom meetings?

Maybe you're getting into vlogging and want the best lighting for your videos?
If so, you need great lighting!
Without light there is no photography. Light is needed to create all photos.

Choosing the right lighting is important to create a mood, to define a subject, and basically to make or break your photos and videos.
Photography lighting options sure have come a long way. It used to be that only professional photographers could afford expensive studio lighting and light stands.

This lighting used to be flash strobes and were bulky. Several were needed to create desired effects.
Continuous lighting has become more popular in the last years and professional photographers are turning to these options more and more during photo shoots.

Ring lights are now a popular option for professionals. They have become very affordable so even amateurs are purchasing them for their home photo and video projects.
Chances are you've seen or at least heard about ring lights, as they are everywhere these days.
Read on to learn more about ring lights and how to best use them with your phone.
What Is a Ring Light?
A ring light is a circular, ring-shaped light that is designed to be placed directly in front of a subject.

You place your phone in the middle of the circular light to take your photos. The light creates a round shape lighting that we often refer to as catchlights in the eyes.
Ring lights are not new, but they are new to mainstream photography.

Yes, ring lights have been around for a long time. Ever notice the lighting at your dentist or doctor's office? Ring lights were initially invented for medical purposes and have now made it into our everyday lives.
Ring lights are very popular with all-level photographers and videographers, from amateur to pro.

They are widely used with make-up artists, YouTube and TikTok creators, and fashion bloggers. Also, they are the greatest accessory to create the best selfies!
Why Use a Ring Light and Stand
Ring light sales sky-rocketed during the quarantine period of 2020. Many people started working from home and needed good lighting for Zoom meetings. Ring lights are affordable and super easy to use.
Also, social distancing had people of all ages start vlogging and sharing YouTube videos online. TikTok became very popular during this time and ring lights are the perfect, if not essential, photo accessory to own to create pro-looking videos.

Types of Ring Lights
Where to start? You will find that there are now loads of options when it comes to purchasing a ring light.

They are not all created equal and you want to assess your needs beforehand in order to get the best one for your particular projects.
Ring lights come in a variety of sizes. Some are built to accommodate DSLR cameras, tablets, and/or phones. Some come with small table stands while others offer a stand that acts as a full-size tripod.
Ring lights are generally between 10 inches and 18 inches. The larger size lights create softer lighting and the smaller ring lights are more transportable.

Choose a 10 inch ring light, for example, if you want to be able to carry it with you on your outdoor projects or move it around your house easier.
Light temperature is also a factor to look at.

Some are offered with a single white light, while others come with a mix of lighting options, from bright white to warm yellow. The yellow lights create a warmer glow and the white lights create more shadows.

Now there are ring lights that take it to the next level with multi color RGB capabilities, like our very own MiLite+ RGB Ring Light. This allows you to use up to 15 different color settings for even more versatility.

The best ring lights often come with a variety of options and an adaptable stand. This way you get the most out of your ring light and you will be ready for any photo or video project that comes your way.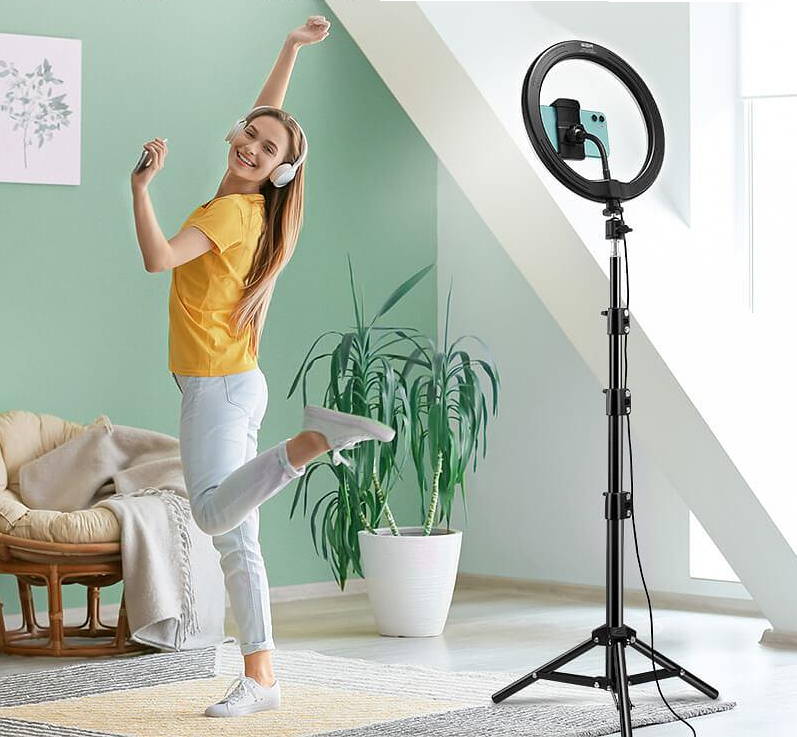 Ways to Use a Ring Light with Your Phone
Thebest way to use a ring light is to place it directly in front of youwith your phone or camera snuggly attached in the middle. This is thebest way to create even lighting and interesting catchlights in youreyes.

Youcan also use a ring light as accent lighting.

You can place it on oneside with your phone on a tripod in front of you. This creates a softerlighting and will create more natural shadows.

Remember, you won't getthe catchlights in your eyes this way, but you will get a more naturallook.
You can also get creative with your ring light and use it in your photo projects.

Ready to Shoot Like a Pro?
If you're ready to take your photos and videos to the next level, it's time to try out a ring light.
Are you creating TikTok videos? Have you checked out our
TikTok
account? Follow us to get tons of tips and tricks to improve your photography and video skills.
Also, join our Facebook page Shoot Like a Pro with your Phoneand share your experiences with our community of like-minded people.Post your photos and participate in our weekly photo contests.
Other Articles You Might Like